CCTV Chinese television channel 4's program Homeland, Dreamland 远方的家 in its edition on Spain, decided to dedicate its 509 program to the city of Granada, thanks to the interest aroused by the trajectory of Todos los Tonos y Ayres.
We accompanied the shooting crew for three intense days during which we guided them on a special visit to the Alhambra, a walk through the old silk market and the Albaicín district.
We finished the intense shooting plan in the Cuarto Real de Santo Domingo, where we performed some pieces of our program The Emperor's Harpsichord, together with our friends from Íliber Ensemble.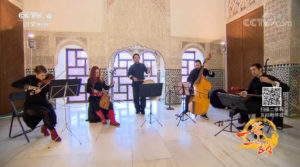 Shooting from 10 to 12 January 2019. Program broadcasted on June 13, 2019.
《远方的家》一带一路(509) 西班牙 石榴之城格拉纳达 (Youtube)
《远方的家》一带一路(509) 西班牙 石榴之城格拉纳达 (CCTV)
《远方的家》一带一路(509) 西班牙 琴系东西 声传古今 (CCTV)