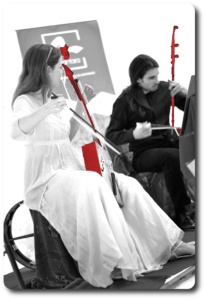 is the first Spanish early music ensemble specialising in the research of East Asia early music and Chinese music in particular.
After training in China, Abigail R. Horro and Rubén García Benito founded this project which aims to raise awareness of the historical and musical relations that existed in the past between Europe and Asia, as well as the presence of Iberian music beyond its own borders, always with the utmost respect and historically informed rigour towards the musical manifestations of all the cultural contexts they work in.

has carried out several artistic and research projects in collaboration with entities such as the Confucius Institute, the City of Arts and Sciences or the Cervantes Institute, and they have performed, among others, in the FEX – International Music and Dance Festival of Granada, the Early Music Festival of Gijón or the Early Music Festival of Úbeda and Baeza (FeMAAV – FeMAUB).
Its proposals have led them to develop major projects on the interculturality of universal early music, in which they invite prestigious collaborators to participate, such as Musafir, Medieval Travelers, an ambitious intercultural and multidisciplinary programme on the great commercial and exploration routes of the Middle Ages, premiered at the closing concert of the 2nd Early Music Festival of Granada.
Its projects on historical interculturality have aroused the interest of various creators and national and international media, such as the Chinese national television CCTV or the award-winning filmmaker José Luis López Linares for his documentary film España, la primera globalización..
For the Diego de Pantoja Year, they created the project The Emperor's Harpsichord: Diego de Pantoja and his legacy, premiered at the 3rd Granada Early Music Festival, a unique proposal in the Spanish musicological panorama, which brought them, together with Íliber Ensemble, to a tour in China between the months of May and June 2018 organized by the Instituto Cervantes and the Embassy of Spain in China, participating, among others, in the international festival Meet in Beijing. El Clave del Emperador is their first album for the IBS Classical label.