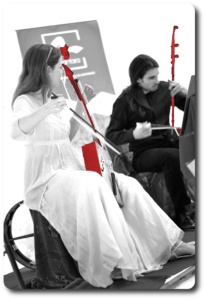 is a research and dissemination project of early Chinese music. Its objective is to give visibility to the early music of the written tradition of the Middle Kingdom and to recognize its presence in the specialized circuits of early music in general. 

is based on the conviction that the inclusion of early Chinese music in historical music circuits can be a pioneering and enriching initiative due to the beauty and abundance of its musical works, the existence of innumerable collections that compile them, or the systematization of theoretical treatises by the Imperial Department of Music over two thousand years, which allows a rigorous reconstruction of the sound life of the Celestial Empire and the historical context in which it developed.
It is in Beijing where Abigail and Rubén conceive the idea of a scenic project dedicated to Chinese music. Originally they form the duo

, focused on the traditional music, with which they give concerts and conferences throughout Spain, invited by the Confucius Institutes of Barcelona, Madrid and Granada, by the Autonomous University of Madrid and by the Asia-Seville Cultural Festival. In the course of their research work in search of new scores, they encounter Dunhuang's fascinating manuscripts and the suggestive history of their elaboration and discovery, and decide to undertake a more specific research, thus creating the project

specialized in the study and interpretation of ancient Chinese music, the first group in Spain with these characteristics. This work will give them access to specialized festivals such as the I Festival de Música Antigua de Granada MAG or the Ciclo Música Antigua Sancti Iohannis.
In 2016 they are invited by the Ciudad de las Artes y las Ciencias de Valencia to give a lecture-concert on the relationship between astronomy and music in ancient China, delving into the role that both played in maintaining cosmic order for the Celestial Empire. Later they are invited by other institutions to develop this subject.
Together with Veterum Mvsicae, they work in the creation of the ambitious project Musafir, Medieval Travelers, an intercultural and multidisciplinary programme on the great commercial and exploration routes of the Middle Ages, premiered at the closing concert of the II Early Music Festival of Granada.
For the The Year of Diego de Pantoja, they create "The Emperor's Harpsichord: After the Legacy of Diego de Pantoja", premiered in the III Early Music Festival of Granada, a unique proposal in the Spanish musicological panorama, which takes them, together with Íliber Ensemble, to a tour in China between the months of May and June 2018 organized by the Cervantes Institute and the Spanish Embassy in China.
The trajectory of

has aroused the interest of several Chinese institutions, as attested by the visit of the national television channel CCTV to Granada, devoting a programme to the city of residence of the project and its musical work.