When:
May 30, 2018 @ 7:00 pm – 9:00 pm
2018-05-30T19:00:00+08:00
2018-05-30T21:00:00+08:00
Where:
Dongjingyuan Temple, Beijing
Dongjingyuan (Temple) 23
Shatan Beijie, Dongcheng District
Beijing

Contact:
Meet in Beijing Arts Festival / Instituto Cervantes de Pekín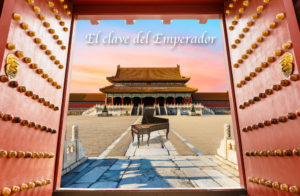 Concert of the China Tour (27 May to 9 June 2018) on the occasion of the celebration of the Year of Diego de Pantoja, framed within the activities organized by the Instituto Cervantes and collaborators.
"The Emperor's Harpsichord: After the Legacy of Diego de Pantoja"
In this concert, Western and Chinese period instruments will come together to reconstruct the lively musical life of the Chinese Court in a tribute to the figure of Diego de Pantoja (1571-1618). This programme commemorates the fourth centenary of the death of this citizen of Valdemoro (Spain), who travelled to China and was a forerunner in establishing cultural relations with the Court of Emperor Wan Li of the Ming dynasty. In addition to providing accurate data about China in Spain and Europe, he brought the first keyboard instrument to the Forbidden City, teaching the art of the clavicord at the Imperial Court for the first time. From then on, the halls of the palace housed numerous Western instruments such as clavicords, spinets, organs or harpsichords.
We will take a journey through the music of Diego de Pantoja's time, from his years of study in the Jesuit province of Toledo to his training stay in Macau, to arrive with him in Beijing. From there, we will explore the wonderful musical legacy of almost two centuries of relationship and exchange in the Court until the end of the 18th century. All thanks to this Spanish missionary, the first Westerner, together with Matteo Ricci, to unveil the Forbidden City.
The Emperor's Harpsichord: After the legacy of Diego de Pantoja is a unique proposal in the Spanish musicological scene, which brings together

, the first Spanish ensemble to specialize in the research and interpretation of early Chinese music, as well as in the musical relationship between imperial China and the Western world; and Íliber Ensemble, a Baroque chamber group using period instruments and historical performance practice.
You can read the concert program and notes clicking here.
Click here to read the dossier of The Emperor's Harpsichord.
Tickets: